Adjustable shelves rather than drawers, for maximum flexibility in a compact unit.

Shelves can be adjusted to any of 4 positions, and shelves are

supported by peg inserts that keep them in place when your vessel rocks & rolls -- yet allows for easy shelf removal and readjustment.

All King Starboard construction, including the face frame and door cover panel, plus all other enclosure components in your choice of 5 colors.

Covering door panel attached with stainless steel piano hinge.

Standard no-cost options: White or black Southco polycarbonate slam latch. Pre-drilled frame.

Extra cost options: Stainless steel locking or non-locking latch. Gasketed door panel.
See More Enclosures | Tackle Centers | Glove Boxes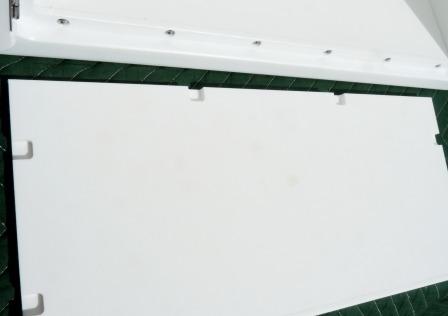 Product Specifications
Outside Dimensions:

20"W x 22"H x 8-5/8"D Behind Frame

Cutout Size:

18-1/4"H x 20-1.4"W

Inside shelf measurements are:

16-7/8"Wx 7-5/8"D

Shipping Weight: 40 lbs.

The tackle center "body" must be strongly supported from beneath as part of the installation in order to avoid undue stress on the frame

.
Note: We build our stock design "to order." Please allow 10 - 15 business days from the time you place your order until it ships
Five Color Choices Included In Base Price
---


White/White


SeaFoam


SanShade


Dolphin Gray


Black

---
Available Options
Standard White Southco Latch -- No Extra Cost -- This white Southco non-locking polylcarbonate latch is a standard option on our enclosures. It's handsome, tough, and designed for the marine environment.

Standard Black Southco Latch --No Extra Cost -- Or choose this black Southco non-locking polycarbonate latch, again as a standard option. Just as with the white version shown above, this latch will stand up to the harsh conditions of a marine environment.

Non-Locking SS Latch -- Add $28.00 -- And upgrade to this non-locking GemLux electro-polished stainless steel slam latch. Stylish and durable.

Locking SS Latch -- Add $38.00 -- And add security to your enclosure with this locking GemLux electro-polished stainless steel slam latch.

Pre-drilled Frame -- No Extra Cost-- Consider this option if you need to fasten your enclosure frame from the front, rather than screwing into it from behind. We'll pre-drill and countersink your holes at precisely spaced intervals on our CNC machine -- so there's no guesswork or uneven results.

Gasketed Door Panel -- Add $24.95 -- Adding a gasket to your glove box's door panel won't make it "waterproof." But it will minimize water intrusion from incidental wave-action spray or splashing while washing down your boat, etc.

"We have bought several [Buck Woodcraft] glove boxes and the products are great -- but I have to say that the last one we received with the seal on the lid works awesome. Our customer is raving about how good and water tight it is... As with all the products we receive/order from Buck Woodcraft, the quality is beyond expectations!."

--Dboatworks -- Key Largo, FL