Stand Up Paddle Board Racks For Docks, Piers Or Any Level Surface
Stand-alone racks for 1, 2 or 3 paddle boards up to 4.5" thick.

Easy installation on docks or other level surfaces with fasteners, or...

NEW -- With our optional support arms, free-standing installation on docks, garage floors, lawns or similar level surfaces with no fasteners needed.

Weatherproof, no-maintenance marine-grade King Starboard construction.

Bungee tie-downs included for your SUPs and paddles.

Rack cutouts accept cable locks & chains for theft deterrence.

Free shipping In The Contiguous States (For shipping rates to Alaska, Hawaii, Puerto Rico, U.S. Virgin Islands or Guam, contact us.)

Designed and built in Marathon, Florida Keys. 

Usually ships within 1 business day.
Buck Woodcraft designed these stand up paddle board racks to offer easy storage for standard SUPS up to 4.5" thick on your dock, pier or anywhere else convenient to the water. Our racks cradle SUPs securely off the ground or dock, yet require minimal lifting when stowing or unshipping your boards for a day on the water. We also offer storage racks for SUPs with thicker hulls, such as touring & racing SUPs.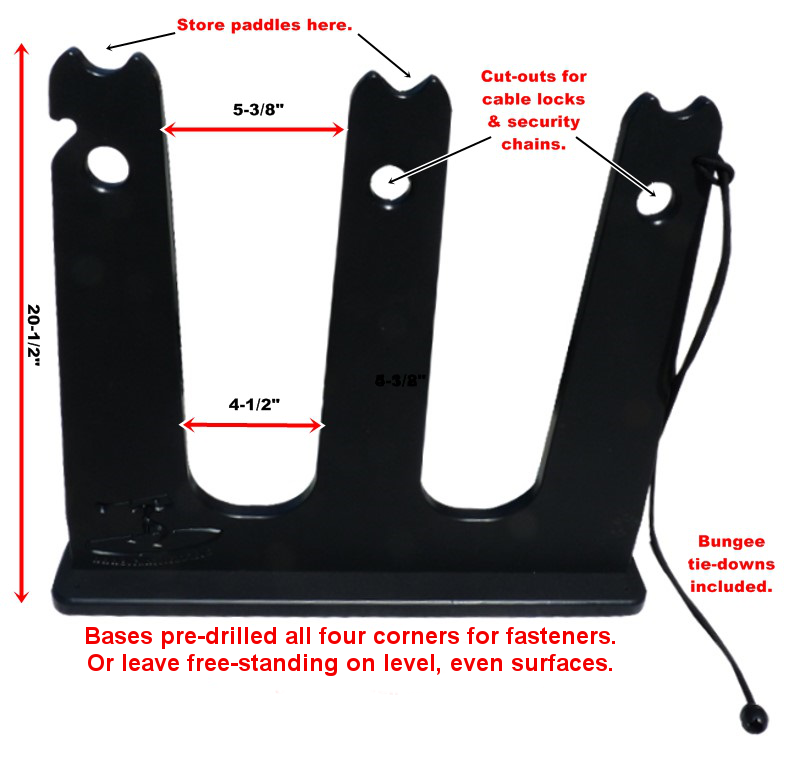 Weatherproof, No-Maintenance Marine Polymer.
We make our SUP racks from 3/4" thick King Starboard and assemble them with all stainless steel fittings. Starboard is a high-tech, marine-grade plastic that stands up to salt water and sun better than just about any other material you'd care to name -- which means it won't 
"Just received the SUP stands and all I can say is: What a great product!
"...now that I have them -- and am using them -- I definitely see the value."
--Philipp Harper - West Palm Beach, Florida
rot, warp, crack, rust or color-fade after years of exposure. In short, you can install these racks and basically forget them, so far as maintenance is concerned.
Sturdy Bases, Easy Mounting.
Our SUP rack bases are pre-drilled at all 4 corners for easy mounting using the fasteners of your choice.  If you're going to mount them on your dock, moderate size wood screws or small lag bolts will work just fine. 
Optional Support Arms Offer Free-Standing, No-Fasteners Installation.
If you'd rather not install your SUP rack permanently, we offer optional cross-brace support arms that basically triple the footprint of our rack bases. This means you can place your SUP rack on most level surfaces -- including docks, garage floors, lawns, patios etc -- and they'll be nice and stable. A set of 4 braces is $39.95, and each support arm installs with a single screw.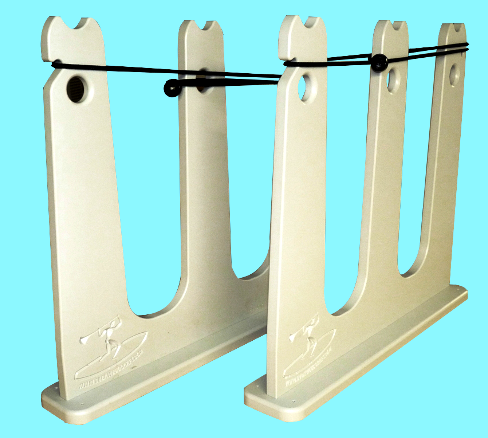 Built-In Paddle Storage, Bungee Tie-Downs, Cable-Lock Openings.

 
Our SUP racks all come with bungee tie-downs for securing paddle boards (and paddles) firmly in place. The racks also incorporate cut-outs for looping cable locks or vinyl coated security chains around your SUPS to guard against theft.
4 Colors, 3 Sizes. Multiple Uses.
Buck Woodcraft's SUP storage racks are available in your choice of 4 colors at no additional cost. And you have your choice of racks for storing 1, 2, or 3 stand up paddle boards in the location of your choice. 
And not least, these racks also store similar-sized items such as surf boards and wind surf boards -- so you can mix and match how you stow your water toys with ease.
For information about our other SUP rack designs, click these links:
Wall-Mounted SUP Racks | Touring SUP Racks
Dock SUP Rack Features:
Fabricated using 3/4" thick King Starboard & stainless steel fasteners, these paddleboard storage racks are sturdy and impervious to weather. 

All models include storage for each board's paddle.

All models include bungee tie-downs for added security.

Rack measurements are: 

1 SUP Rack - 4"W Base x 15.50"L x 20.50"H

2 SUP Rack - 4"W Base x 23.25"L x 20.50"H

3 SUP Rack - 4"W Base x 32.50"L x 20.50"H 
All rack bases are pre-drilled at the corners for fasteners of your choice. Mounting holes can be drilled to accommodate larger fasteners or tent spikes if required.

Storage slots taper from 5-3/8" wide at the top to 4-1/2" at the bottom, then form a gentle curve for the board's edge to rest on. 

Maximum storage depth is 17".
What's In The Box?
Two (2) SUP rack sides.
Two (2) integrated bungee hold-down cords
Color Options:
---


White/White


SanShade


Dolphin Gray


Black

---