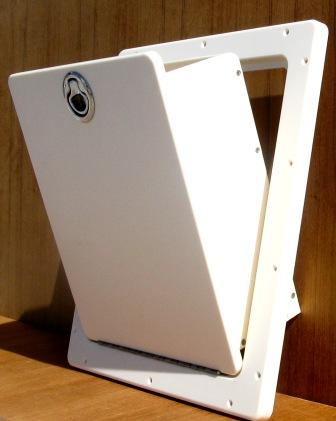 All King Starboard construction in your choice of 5 colors. A stainless steel piano hinge and a white or black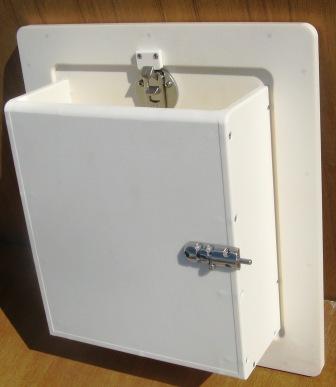 Southco polycarbonate slam latch are standard with this unit.
This enclosure opens to about a 30-degree angle before being held in place by a SS barrel-bolt stopper. The stopper can be moved to permit the enclosure to open as far as you'd like for complete access behind the unit.
See More Enclosures | Tackle Centers | Glove Boxes
Product Specifications
Outside Dimensions: 16"W x 18"H x 4.5"D

Cutout Size:

14W x16"H

Bin Interior Dimensions: 10.5"W x 11.75"H x 4"D

Your choice of a white or black Southco polycarbonate slam latch is included in the base price of this unit.

Electro-polished locking or non-locking latch is available as an extra-cost option.

Shipping Weight: 35 lbs
Note: We build our stock design "to order." Please allow 10 - 15 business days from the time you place your order until it ships
Five Color Choices Included In Base Price
---


White/White


SeaFoam


SanShade


Dolphin Gray


Black

---
Available Options
| | |
| --- | --- |
| | No Extra Cost -- This white Southco non-locking polylcarbonate latch is a standard option on our enclosures. It's handsome, tough, and designed for the marine environment. |
| | No Extra Cost -- Or choose this black Southco non-locking polycarbonate latch, again as a standard option. Just as with the white version shown above, this latch will stand up to the harsh conditions of a marine environment. |
| | Add $28.00 -- And upgrade to this non-locking GemLux electro-polished stainless steel slam latch. Stylish and durable. |
| | Add $38.00 -- And add security to your enclosure with this locking GemLux electro-polished stainless steel slam latch. |
| | No Extra Cost -- Consider this option if you need to fasten your enclosure frame from the front, rather than screwing into it from behind. We'll pre-drill and countersink your holes at precisely spaced intervals on our CNC machine -- so there's no guesswork or uneven results. |