Here you get a lot of storage capacity in a moderate size tackle organizer.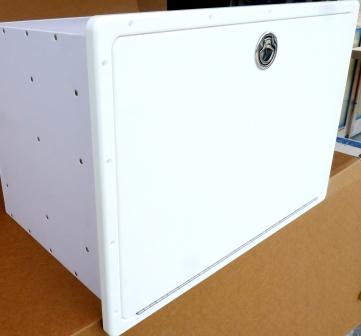 The unit's frame, door panel, drawer components and Plano box shelves are built with King Starboard in your choice of 5 colors, and the surrounding carcass is white PVC for weight savings.
Main Features:
Outside Dimensions:

26"W x 18"H x 16"D

Cutout Size:

24.50"W x 16.50"H

Frame Width: 1.50"
The covering door panel has a stainless steel piano hinge and includes your choice of a white or black Southco polycarbonate slam latch as part of the base price.
Shelves are 10"W x 14-1/2"D and will stow Plano boxes up to 3-1/4" high.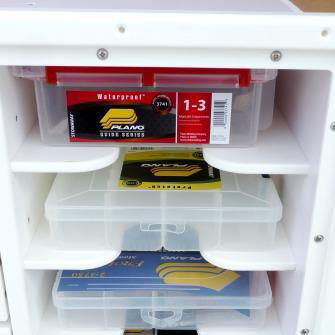 Inside measurements for top drawer: 3"H x 9-1/2"W x 7-3/8"D
Drawer measurements: 11"W x 13-1/4"D x 4-3/8"H. The drawers incorporate a "lift and pull"
feature that keeps them securely closed when not in use.
Shipping Weight: 70 lbs.
Note: We build our stock design "to order." Please allow 10 - 15 business days from the time you place your order until it ships.
See More Tackle Centers | Enclosures | Glove Boxes
Five Color Choices Included In Base Price:
---


White/White


SeaFoam


SanShade


Dolphin Gray


Black

---
Available Options
| | |
| --- | --- |
| | Standard White Southco Latch -- No Extra Cost -- This white Southco non-locking polylcarbonate latch is a standard option on our tackle centers. It's handsome, tough, and designed for the marine environment. |
| | Standard Black Southco Latch --No Extra Cost -- Or choose this black Southco non-locking polycarbonate latch, again as a standard option. Just as with the white version shown above, this latch will stand up to the harsh conditions of a marine environment. |
| | Non-Locking SS Latch -- Add $28.00 -- And upgrade to this non-locking GemLux electro-polished stainless steel slam latch. Stylish and durable. |
| | Locking SS Latch -- Add $38.00 -- And add security to your tackle center with this locking GemLux electro-polished stainless steel slam latch. |
| | Pre-drilled Frame -- No Extra Cost-- Consider this option if you need to fasten your tackle center frame from the front, rather than screwing into it from behind. We'll pre-drill and countersink your holes at precisely spaced intervals on our CNC machine -- so there's no guesswork or uneven results. |
| | |