New Design Combines Strength, Durability & Good Looks
King Starboard Handrails -- Stock & custom sizes up to 96" LOA. If you're looking for a practical, affordable alternative to traditional teak handrails (and to all the upkeep they require), this may be your answer.
We have designed these King Starboard rails to provide a beefy gripping surface and to withstand heavy lateral shock loading that can lead to failure in smaller, weaker handrails. Our rails are fabricated entirely from 1" thick stock and are 1-1/2" wide on the gripping surface -- with no sharp edges anywhere. The mounting bases are built 

Our stock rails range from 14-3/8" to 75-3/8" length overall. Individual rail loops measure 10-1/8" center-to-center, and each base is pre-drilled for 1/4" fasteners (through-bolting is strongly recommended).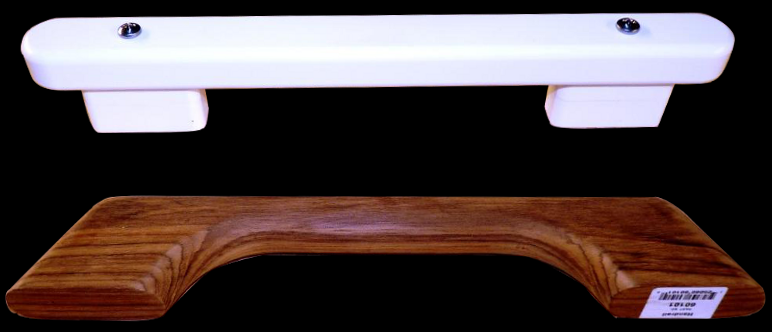 These King Starboard hand rails offer a wider & thicker gripping surface and significantly greater resistance to lateral shock-loading than traditional teak hand rails.

 Using half a dozen heavy blows with a 10 lb sledge, we did our level best to destroy this 1-loop King Starboard hand rail. And while the stress bent and dinged the starboard, it remained intact -- unlike the teak rail shown below. 
 A single blow from that 10 lb sledge did this to a through-bolted, standard 1-loop teak hand rail. Granted, the lateral shock on this rail was extreme -- but was just a fraction of that applied to our King Starboard rail.
up of interlocking 1" King Starboard blocks that are inset into the main rail body. All rail loop components are pre-drilled for 1/4" diameter fasteners at their centers with precision accuracy, and are ready for through-bolting at your mounting location.
1- To 7-Loop Stock Rail Sizes
Our King Starboard hand rails are available in 1, 2, 3, 4, & 5-loop sizes, ranging from 14-3/8" to 54" long. Regardless of which size you buy, the ends of each rail extend 1" beyond the outermost loop bases -- and all loop bases measure 10-1/8" center-to-center
The hand rails' gripping surface is 1' thick and 1-1/2" wide. Distance from your mounting surface to the underside of these rails is 1-1/4", and the overall rail height is 2-1/4".
Custom Rail Sizes To Your Specs

We offer two types of custom King Starboard hand rails:
Using our basic stock design, we can produce 6 to 9-loop rails on request. These rails have loop bases that measure 10-1/8" center-to-center. Length overall for an 8-loop rail is 85-1/2" & LOA for the 9-loop rail is 95-5/8".

We can also fabricate rails with loop sizes tailored to your requirements. You simply need to specify the center-to-center distance for your loop bases and tell us how many loops you want in each rail, and we'll do the rest -- making it a simple matter for you to replace your old hand rails with new ones that match the original mounting holes. Click this link to request a custom hand rail price quote.
Stock Hand Rail Specifications:
Stock Rail

Sizes

Price

Each

Length

Overall

Loop Bases

Pre-Drilled

(10-1/8" Ctr To Ctr)

Loop Mounting

Base Footprint

1-Loop

$26.80

14-5/8"

ü   

2-1/2"L x 1"W

2-Loop

$43.60

24-3/4"

ü   

2-1/2"L x 1"W

3-Loop

$65.40

34-7/8"

ü   

2-1/2"L x 1"W

4-Loop

$87.20

45"

ü   

2-1/2"L x 1"W

5-Loop

$104.20

54"

ü   

2-1/2"L x 1"W